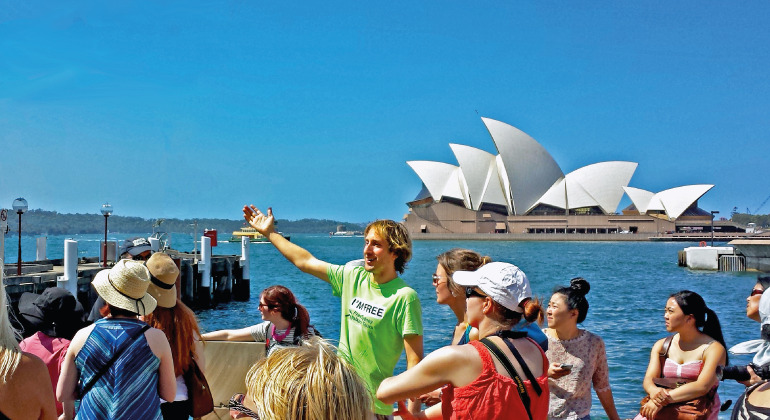 Australia's largest city, Sydney drapes around its glorious beaches and harbor, which makes the place a visual treat that only few other cities in the world can match. If you dig deeper, you'll unearth a lot more special aspects of the city. However, typical Sydney sightseeing tours do not go through the crevices. Therefore, make sure the sightseeing tour you're signing up for covers at least the following four places.
Sydney Opera House
The most famous landmark of not just Sydney but the entire country, the Sydney Opera House houses five performance areas for dance, opera, concerts, and theater. For the best experience, it's imperative you attend a performance there. You may even take a 60-minute long guided tour (offered in different languages) of the structure. There is also a two-hour tour that lets you access all areas of the structure. Other routes to experience the building is listening to a seven-minute Aboriginal stories narration, sunrise yoga classes, etc.
Sydney Harbour National Park
The Sydney Harbour National Park safeguards huge swathes of bushland surrounding the harbor shoreline, and various harbor islands. In the greenery, you will find walking tracks, Aboriginal carvings, scenic lookouts, beaches and several other historic spots. The park incorporates Nielsen Park and South Head on the harbour's south side. However, the majority of the park lies on the north shore, which includes Middle Head, Bradleys Head, North Head and Dobroyd Head.
Bondi Beach
Bondi Beach is a clean and beautiful beach with consistently good waves. The water temperature is 21 degrees Celsius (average), which makes it quite perfect for swimming. The beach is a good place for learning surfing too. If the sea conditions are not ideal, you may try the kid-friendly sea baths located at both ends of the beach. There are two surf clubs patrolling the beach and positioning flags so that you avoid the worst holes and rips.
Sydney Harbor Bridge
Opened in 1932, Sydney Harbor Bridge is a majestic structure that's best experienced by foot. There are lifts and stairs climbing up the building from the two shores. On the eastern side, the stairs would lead you to a footpath. The western side would lead you to a bike path. The bridge is 'massive' and if you are anywhere even remotely close to the bridge, your eyes would most certainly catch a glimpse of it. The 134m height, 503m length, and 53,000 tonnes of steel used definitely contribute to the bridge's enormous dimensions.